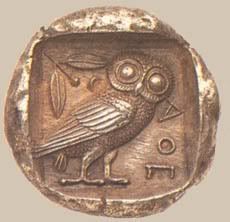 - the style or idiom of Attic Greek occurring in another dialect or language.
- attachment to Athens or to the style, customs, etc., of the Athenians.
- concise and elegant expression, diction, or the like.
- An expression characterized by conciseness and elegance.
Origin:
1605–15; Gk Attikismós a siding with Athens, an Attic expression.


Dictionary.com
. Unabridged (v 1.1). Random House, Inc.
- A pure and refined style of expression in any language, originally the purest and most refined style of the ancient
Definition taken from
The Nuttall Encyclopædia
, edited by the Reverend James Wood (1907)
- A witty or well-turned phrase

Merriam-Webster Online

. 2 January 2009



- Its original simplicity meant that it remained universally comprehensible throughout the Greek world. This helped maintain vital cultural links across the Mediterranean and beyond.
Wikipedia
---
I like this word because I aspire to write in this style. Unfortunately, I get too wordy at times.